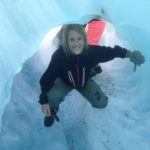 Can I say a massive thank you to all at I'm a Scientist, all the students and teachers that took part over the last two weeks, and to the other members of the Stress Zone: Livia, Chris, Kristi and fellow finalist Laura!
I hope you all had has much fun as I did! And learnt as much – these events are just as important for the scientists as the students, as they allow us to take a step back from our day-to-day work and look at our research in a very different way. I was also very surprised by the quality of some of the questions – far more intelligent than I could have asked at that age! And I also enjoyed some of the 'banterful'/amusing comments – a few had me (and colleagues) LOL-ing in the office!  So again, massive thank you to the students.
And finally, I'm still a bit in shock from winning – as I was up against fantastic and enthusiastic scientists who generated very insightful answers (which I took great pleasure in reading – and again learnt from myself). But am incredibly grateful, and I will use the winnings very wisely to build an interactive model to show how the 'stress-hormone' cortisol is released and its effects on the body (good and bad), and look forward to updating you all about the outcomes!
Until then – keep asking questions!
Best,
George!
Scientists! If you'd like the chance to win funding for your own public engagement work, apply for the next I'm a Scientist, Get me out of here: imascientist.org.uk/scientist-apply